Last updated on August 1st, 2016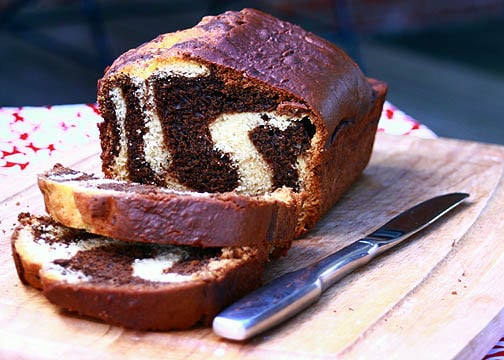 It seems to me tiramisu has been way overdone.
Kind of like The Kardashians.
And movies/shows about vampires/zombies/the apocalypse.
And reality TV.  Just enough already, please?
Even so, I still adore tiramisu and if I ever turn it down please check my pulse.  Because I'm probably dead.
I could lie to you and tell you that I picked this recipe because of the name or because it has mascarpone cheese in it.  But really, I picked this recipe because of the swirly things the batter does while it's baking.  I love recipes that do swirly things while their baking.
The batter is yummy enough that I could eat it with a spoon.  Thank God Little Tot is not old enough to understand the concept of "licking the beaters," because this was one instance I would have fought him for it.  The Husband sat in his recliner watching TV, while I hunkered out of sight in the kitchen happily licking the beater, my spatula, and the mixing bowl like a six-year-old girl.  It was that good.
This bread is best served warm with a dollop of ice cream.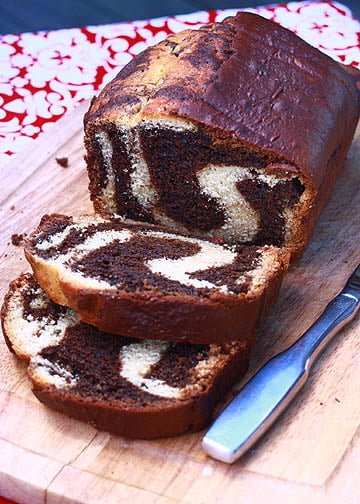 ---
Author:
Adapted from [i]Cuisine at Home[/i] Magazine
Ingredients
1 1/2 cups all-purpose flour
1 teaspoon baking powder
1/2 teaspoon baking soda
1/4 teaspoon table salt
1 container (8 oz.) mascarpone cheese, softened
3/4 cup sugar
2 eggs
1 teaspoon vanilla
1 tablespoon unsweetened cocoa powder
2 teaspoons instant espresso powder
1 tablespoon water
1/2 cup buttermilk
Instructions
Preheat oven to 350 degrees.
Sift together flour, baking powder, baking soda, and salt in a medium mixing bowl. Set aside
Combine mascarpone cheese and sugar and beat with an electric mixer on medium speed until fluffy. Add eggs, one at a time. Add vanilla.
With the mixer on medium to medium low, add half of the flour mixture to the bowl. While the mixer is still running, add buttermilk, then add the remaining flour mixture. Continue to mix until just combined.
In a small separate bowl, combine cocoa and espresso powder. Add water and stir until powders are dissolved.
Divide batter in half. In one half, stir in the cocoa/espresso mixture.
Spray a single bread loaf pan with cooking spray. Spread half of the white batter onto the bottom of the pan. Carefully spread half of the cocoa/espresso batter, being careful not to mix the two batters. Continue with the other half of the batters, ending with the cocoa/espresso batter.
Carefully drag a wooden skewer through the batter three or four times to swirl. Bake for 50-55 minutes or until a clean skewer inserted near the center comes out clean.
Let bread cool 15 minutes before removing to a wire rack to finish cooling.