Last updated on September 3rd, 2023
Learn how to cook turnip greens just like they do in the South. Greens are slowly simmered with salt pork, apple cider vinegar, salt and pepper for a tender, tasty soul food side dish.
I recall a conversation I had with my husband our first New Year's after we were married. I was relaying to him what I planned to cook on New Year's Day. I don't remember what I told him, only that my menu was all wrong, because he interrupted me and said, "No, on New Year's Day you eat hog jowls and turnip greens or it's bad luck."
I'm pretty sure I looked at my new husband like he had just lost his mind. Please remember, even though I was born in the South, I was raised by two Mid-Westerners. We had New Year's Day traditions, but they definitely did not involve hog jowls or turnip greens. At that time, I didn't even know what hog jowls were, much less where to buy them or how to prepare them. That first year, we came to a compromise — cabbage and ham.
I've come a looong way since then. I eventually taught myself how to cook turnip greens. In fact, I make them quite often. Traditionally, greens are slowly simmered for several hours with some type of smoked or salted meat for seasoning.
What is the difference between turnip greens, collard greens and mustard greens?
Turnips are a root vegetable closely related to kale, broccoli, cauliflower and cabbage. Turnips grow under the ground. The "greens" refer to the green leaves that grow above the ground. Coincidentally, the leaves are also where all the nutrients are. Turnip greens are loaded with various vitamins and nutrients that prevent osteoporosis, maintain healthy skin and hair, reduce iron deficiency and help with digestion.
Collard greens are a variety of cabbage. Mustard greens, considered to be an herb, are the leaves of the mustard plant (that yellow stuff you squirt on your hot dog comes from the seed of the mustard plant). Each has a different texture and taste when cooked. Turnip and collard greens in their raw form are very tough in texture. It is not something you generally want to toss into your salad. Both are simmered for a long period of time to soften them up, which makes them ideal for this recipe. Mustard greens are more tender. You can eat them in their raw form or cook them down similar to spinach or kale. Because of their more delicate texture, mustard greens tend to cook down to mush if cooked in this manner.
Tools and ingredients needed to cook turnip greens
Preparing a pot of old-fashioned southern turnip greens only requires a few ingredients. You'll need:
4 bunches of fresh turnip green leaves
12 ounces of salt pork – salt pork comes from the same part of the pig as bacon and pork belly. It's fattier and saltier than bacon, but not smoked. You can also use pork jowls, smoked ham hocks, a hambone, a smoked turkey leg or even bacon.
1/2 cup of apple cider vinegar
4 cups of water
1 teaspoon of sugar
1 teaspoon of salt
½ teaspoon of ground black pepper
Large stockpot – the fresh greens will take up a lot of room in the pot at first. Once they begin to wilt in the hot water, they will cooked down considerably, much like spinach does.
Wash the leaves and remove the stems
Because turnips are a root vegetable that grows in the ground, it's a good idea to wash the leaves first to remove any grit and grime. I fill my kitchen sink with cool, clean water, then completely immerse the leaves in the water. I let them soak for about 15-20 minutes to let any grime sink to the bottom, then carefully remove the leaves and drain the water.
The center stem of a turnip green leaf is very tough. You want to remove this before cooking. You can do it with a sharp knife, but I find it easier just to tear the leaves from the stem by hand. If you are a gardener, toss the stems in with your compost. Afterwards, roughly chop the leaves into manageable pieces.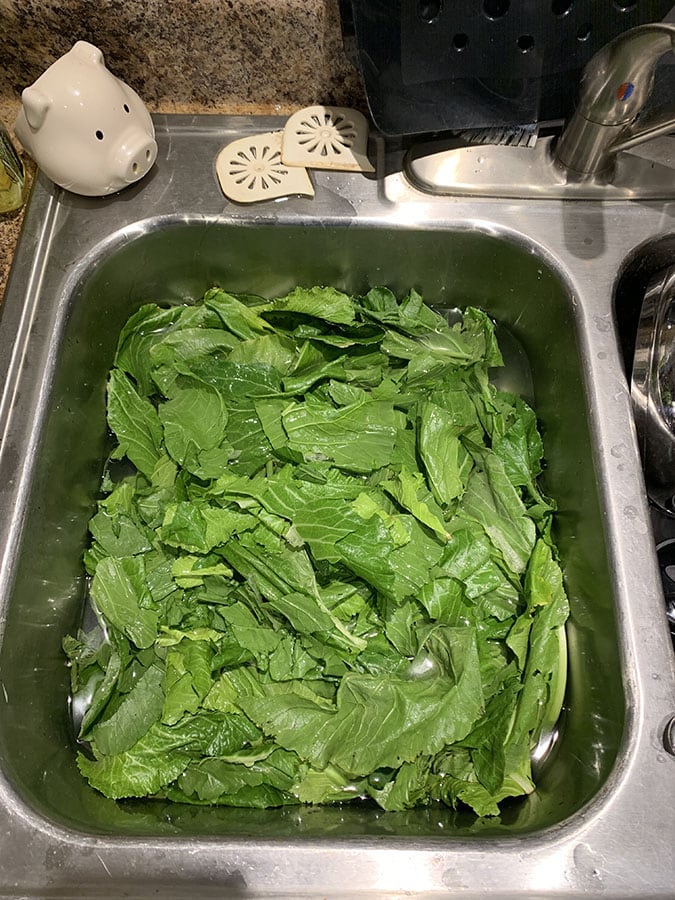 Preparing the salt pork
The salt pork I purchase already comes presliced, but I do chop it up into smaller, bite-sized pieces before tossing it into a large stock pot that has been heating over medium heat. Cook the salt pork for 3-5 minutes to render out some of the grease. But don't drain the grease. Simply pour the water over the pork, bring it to a boil, then cover the pot, reduce the heat to low and simmer for 10 minutes.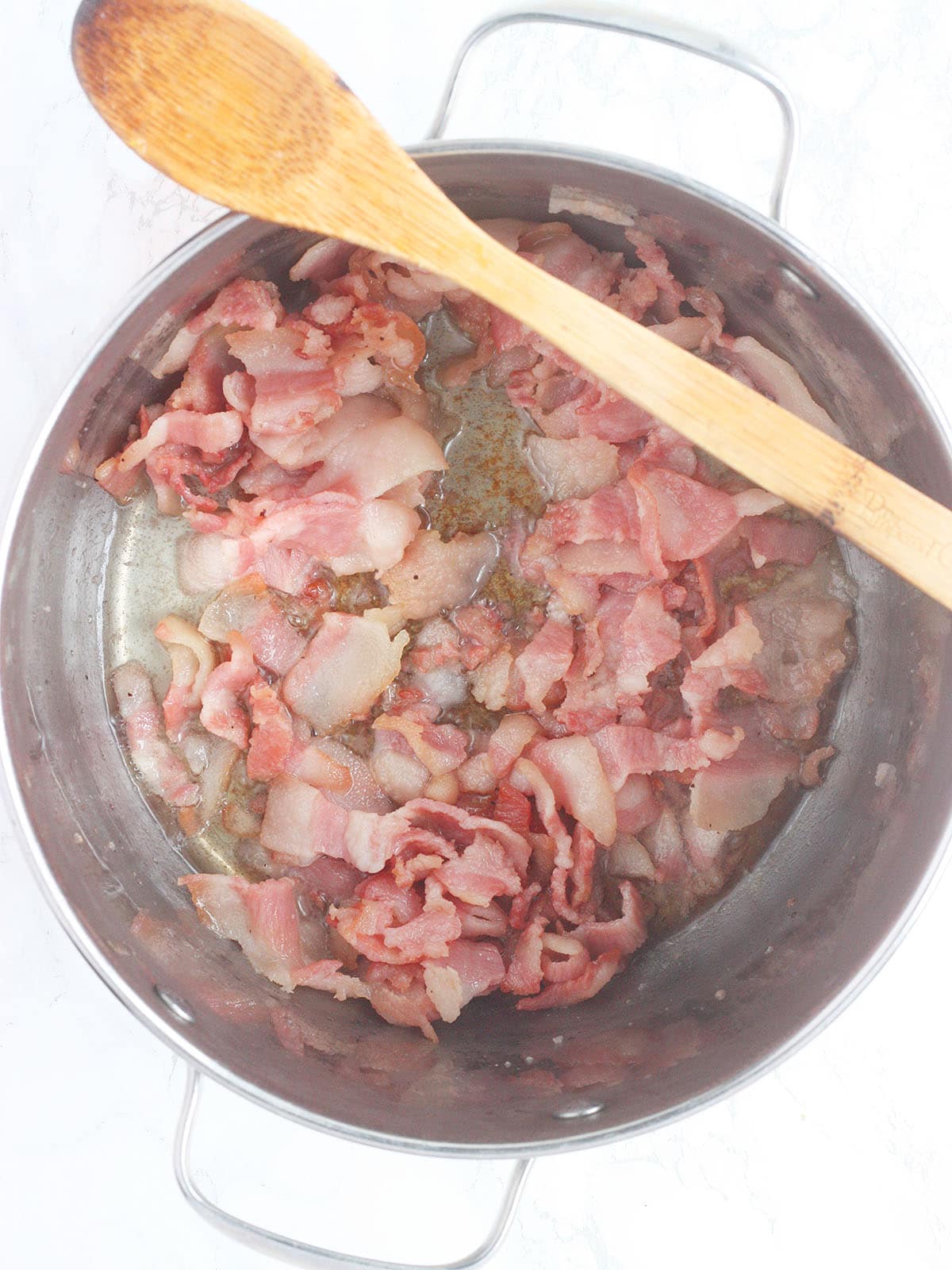 Add the vinegar and seasonings
Next, add the apple cider vinegar. This ingredient helps to further break down the fibrous leaves. If you don't have apple cider vinegar on hand, regular distilled white vinegar will also work. I've even had a reader recommend using salsa!
One common complaint I hear about greens is that they are bitter. In addition to the vinegar, add one teaspoon of sugar, one teaspoon of salt and ½ teaspoon of pepper. This will help remove any bitter flavor. Bring the water to a boil again.
Cook the turnip greens
Finally, add the washed and chopped greens to the pot. You may need to add them in batches, stirring between each addition, until they wilt a little to make room for the next batch. Once the greens have all been added, cover the pot, reduce the heat to low, then wait.
I cook my greens for a minimum of two hours. The longer they simmer, they more tender they will become. Before serving, season the turnip greens with salt and pepper to taste. I like to eat my turnip greens with a slice of hot homemade cornbread for sopping up any juices. The Husband likes to add a few sprinkles of hot sauce for heat.
Speaking of juices, don't dump those out! The broth, known as potlikker or pot liquor, is the best part. I use them as the base for this hearty, healthy potlikker soup.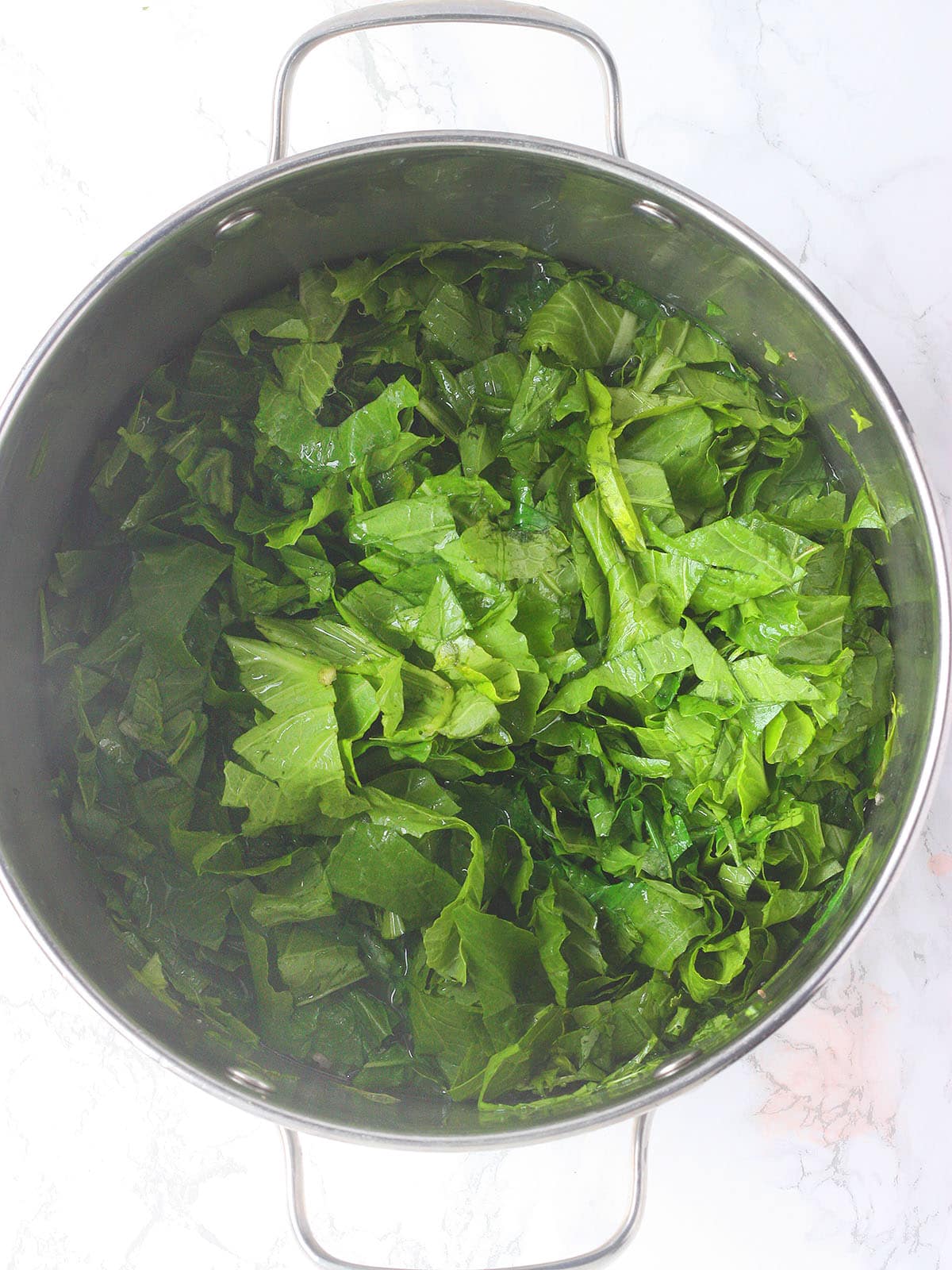 Storage, freezing and reheating
Storage. Allow the turnip greens to cool completely before transferring them to an airtight container with a lid. Turnip greens should be eaten within four days.
Freezing. Believe it or not, cooked turnip greens can be frozen. My preferred method is to spoon the greens and the potlikker into a freezer bag. Leave several inches at the top for expansion. Carefully fold the top of the bag down to squeeze out all the air, then seal. Lay the bag flat to freeze. Once frozen, you can stack it. Frozen greens should be eaten within 3-4 months. Allow them to thaw in the refrigerator before reheating.
Reheating. Thawed turnip greens can be reheated in the microwave for 1-2 minutes, stirring halfway through cooking, until heated through. You can also place the greens in a saucepan and reheat them over medium low heat.
What to serve with turnip greens