Classic Cajun dirty rice is a meaty side dish that combines ground chicken livers, ground beef, bell peppers, onion and celery.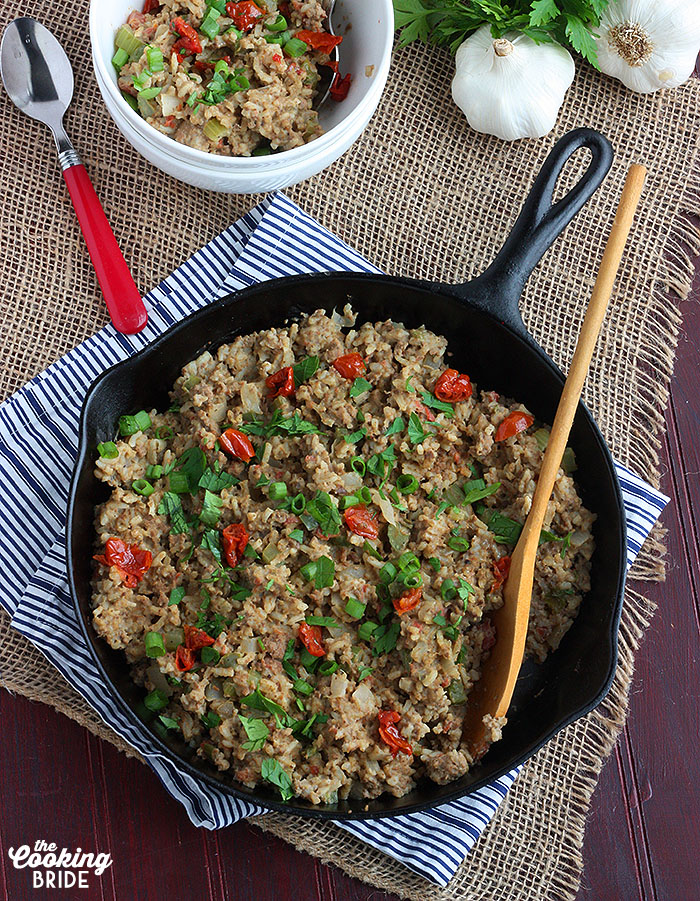 A lot of traditional Southern dishes can trace their roots back to slave cooking. Dirty rice is one of those dishes. It's a popular dish that gets its name from the ground beef and finely chopped chicken livers included in the dish, hence giving the rice its "dirty" color.
The Origins of Dirty Rice
Wait, did I say chicken livers? Yep. During slave days, the best parts of the chicken fed the plantation owners. Slaves were left with the less desirable parts – the innards. Combine it with rice, which was cheap and plentiful, and you've got a meal substantial enough to feed a family.
Cajuns later adopted dirty rice for the same reason. Cajuns can trace their familial roots back to exiles from Eastern Canada who later settled as tenant farmers in the swamps Louisiana. The Cajuns weren't especially rich, hence the need for poor man's meals made with grains and cheap cuts of meat.
You'll find newer versions of this recipe that exclude chicken livers altogether. Call it liver and people turn their nose up. But call it pate … I digress.
How to Remove that Weird Flavor from Liver
If you've ever eaten wild game, such as venison, it has a different flavor than say, a steak you bought from the super market. It's gamey, which is a bit tart, earthy and slightly metallic tasting. It can be off-putting if you're not used to the taste. Liver, in its natural state, has a gamey flavor.
One technique The Husband and I use to remove the gamey flavor from venison is to soak it in milk for several hours. It can be whole milk, 2%, skim, it doesn't matter. White milk has a way of neutralizing the metallic taste in the meat.
How to Prepare Cajun Dirty Rice
Before you get started, prepare two cups of uncooked white rice according to package directions.
The night before, place 1 ¼ pounds of chicken livers in a resealable plastic bag. Add enough milk to cover the livers. Seal and refrigerate overnight. Drain and discard the milk.
Place the chicken livers in a medium saucepan. Cover with water. Add 1-2 teaspoons of salt. Bring the water to a boil, then simmer the livers for approximately 7-10 minutes until they are cooked through. Skim the foam off the top, then strain and reserve the cooking broth. Set the chicken livers aside to cool.
Some recipes instruct you to finely mince the livers. This will result in a slightly dryer rice with a finer grain texture like a pilaf. Other recipes call for you to puree the livers in a blender or food processor, which will give you a creamy texture closer to risotto. Either is fine, you choose your preference.
Next, heat one pound of ground beef in a large skillet. Break up the meat into bite-sized pieces with a wooden spoon. Cook until the meat is no longer pink, about 7 – 10 minutes. Strain the meat from the grease and set aside. Reserve the grease.
Add the one large chopped onion, three diced celery ribs and one large green diced bell pepper to the skillet. Sauté until the vegetables are tender, about 10 minutes. Add two cloves of minced garlic and cook until fragrant, about thirty seconds.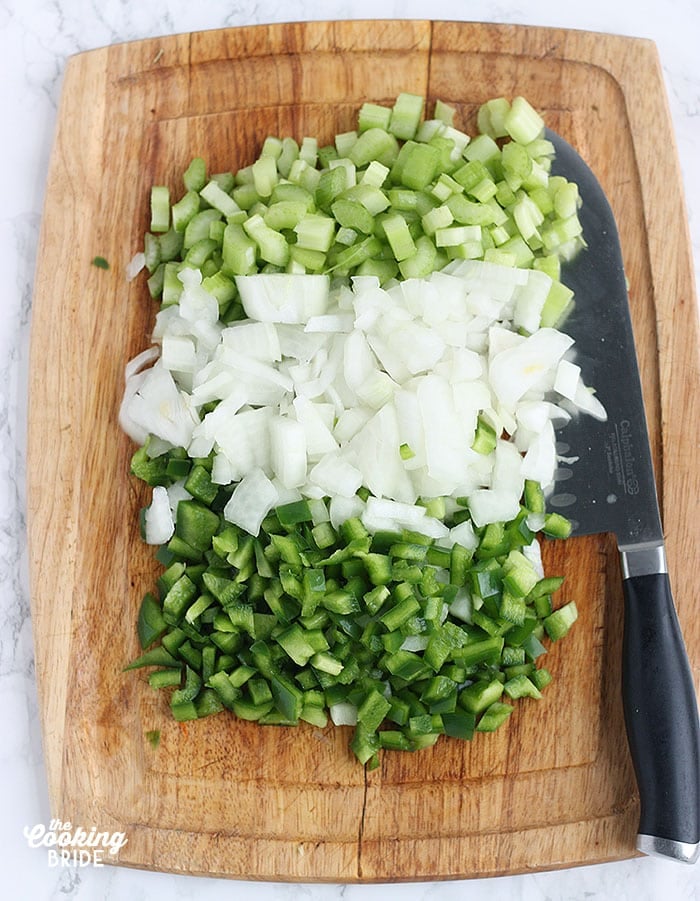 Add the ground beef back to the pan. Stir in the chicken livers along with ½ teaspoon dried thyme and one can of diced tomatoes with green chilies. The diced tomatoes are not traditional. The dish was starting to look very greyish-brown and I added them purely for color. If you like a spicier dish, opt for hotter tomatoes with chilies. Otherwise, use mild.
Stir in the rice and the reserved broth from the chicken livers. Season the dish with salt and pepper to your preference. Nestle the bay leaves in with the rice. Cover and simmer on low for 30 minutes.
Before serving, garnish each dish with sliced green onions and minced parsley.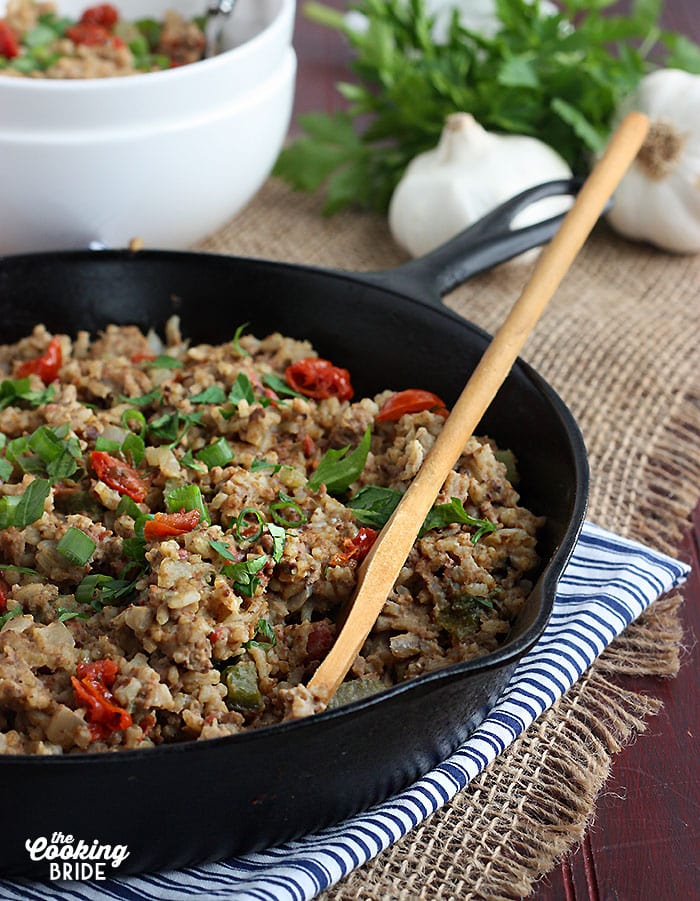 You Might Also Like: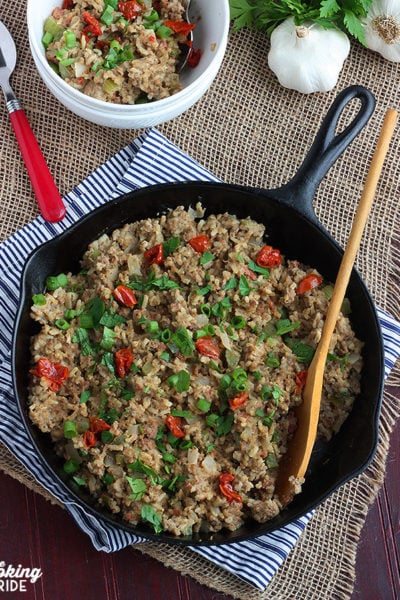 Cajun Dirty Rice
Ingredients
1 ¼

pounds

chicken livers

1

pound

ground beef

1

large white onion

diced

3

large celery ribs

1

large green bell pepper

½

teaspoon

dried thyme

1

10 oz can diced tomatoes with green chilies

2

cups

cooked white rice

2

bay leaves

½

cup

chopped fresh parsley

1 ½

cups

minced green onions
Instructions
Place chicken livers in a medium saucepan. Cover with water. Add about 1 teaspoon of salt. Boil the chicken livers for 7-10 minutes until cooked through.

Skim foam from the top of the cooking broth, or strain, reserving the broth. Set the livers aside to cool slightly.

Once cool, finely chop the chicken livers or puree in a blender or food processor.

In the meantime, cook ground beef over medium heat until no longer pink, about 7-10 minutes. Use a wooden spoon to break the meat up into bite-sized pieces. Remove the ground beef from the pan and set aside. Reserve some of the grease.

Add the chopped white onion, celery and green bell pepper to the hot grease. Cook until vegetables are tender. Add the minced garlic and sauté for an additional 30 seconds.

Return the ground beef to the pan, along with the pureed chicken livers.

Add the dried thyme and tomatoes with green chilies and stir.

Add the cooked rice and two cups of the reserved stock from the chicken livers. Season with salt and pepper to taste. Nestle the bay leaves in the rice.

Cover the pan and bring to a boil. Lower the heat to low and simmer for 30 minutes.

Garnish with fresh chopped parsley and green onions before serving.
Nutrition Facts
Cajun Dirty Rice
Amount Per Serving (1 cup)
Calories 498
Calories from Fat 162
% Daily Value*
Total Fat 18g 28%
Cholesterol 30mg 10%
Sodium 2286mg 95%
Total Carbohydrates 72g 24%
Protein 15g 30%
* Percent Daily Values are based on a 2000 calorie diet.