Last updated on March 21st, 2023
Spinach pear salad with dried cranberries and bacon is satisfying enough to serve on its own as a meal or as a side salad.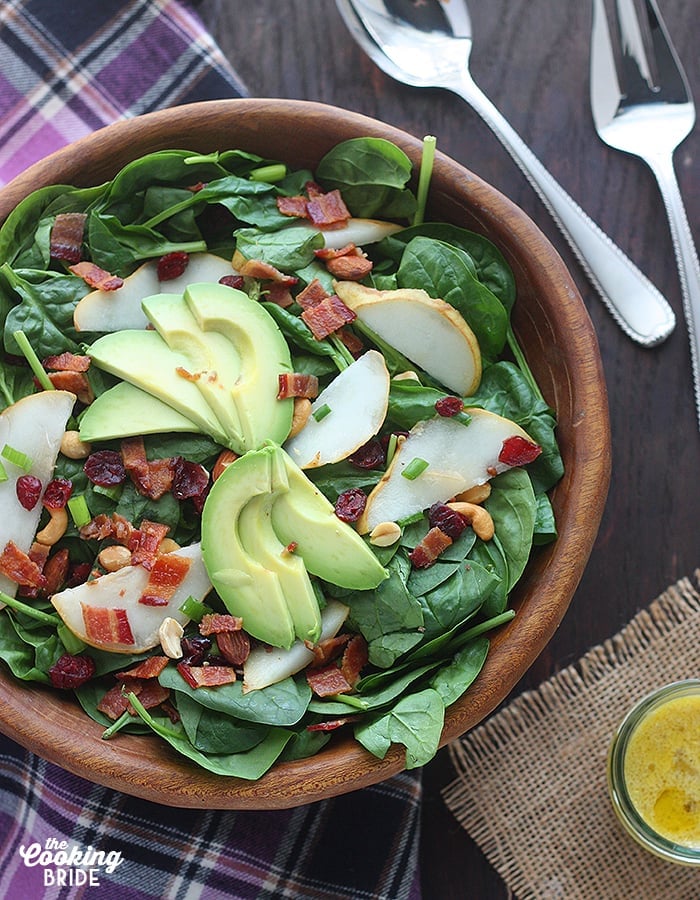 Over the summer, The Husband and I went on a big salad kick. After a long day, it's just so nice to come home, throw a salad together, and call dinner done. Clean up is usually a breeze and it's an easy, tasty way for me to get in a daily dose of veggies. Having a unusually successful garden this year kept me motivated as well.
The weather has cooled off in the last few days, which has me itching to get out the slow cooker and the stock pots and start making soups. However, I thought I would squeeze in this recipe for Spinach Pear Salad before I switch gears.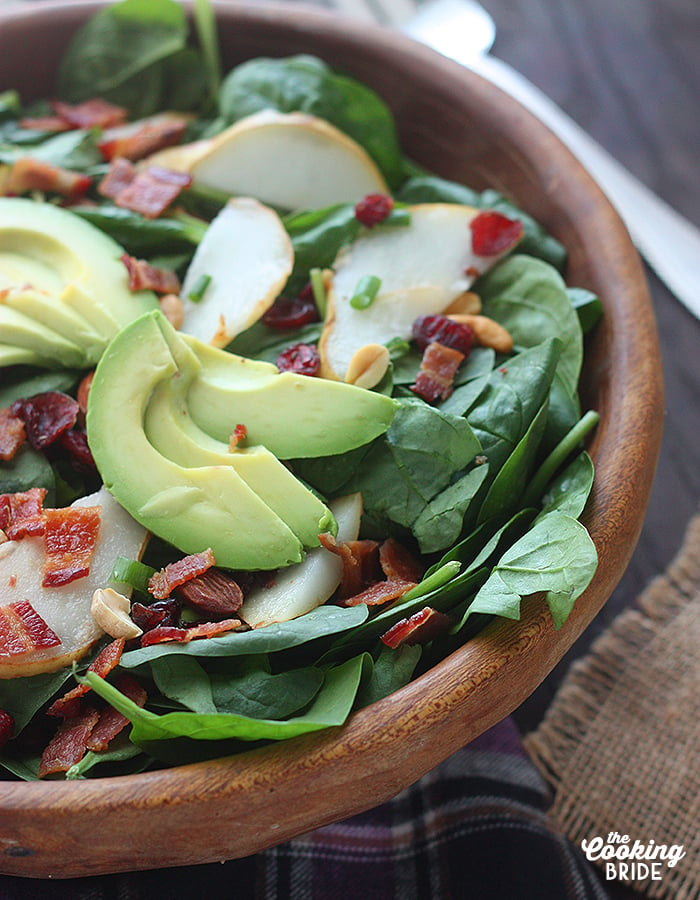 Choosing the right type of pear
I ADORE a ripe, juicy pear. My mom always kept them in the house for snacking while I was growing up. I love biting into a pear and slurping all that sweet juice. I don't cook with them enough and I should. I know, I know, throwing them into a salad can hardly be called cooking. But loved the added sweetness and texture of the pears and against the saltiness of the bacon and the tangy vinegar and oil dressing.
Whenever I think of a pear, I always imagine a green Bartlett pear from my childhood. However, there are so many varieties of pears available. You may find yourself wondering what the difference is and which is the best for this salad. Some of the more common varieties I regularly find at my local grocery store include Bartlett, Anjou, Asian and Bosc. Comice and seckel pears are two other varieties you might run across.
Here's a quick breakdown:
Anjous – crisp pear perfect for grilling or baking. Also ideal for snaking.
Bartletts – great for snacking or cooking down into a sauce.
Bosc – crisp pear that works well when baked, grilled or sliced in a salad.
Asian – apple-like in both taste and texture. Great for snacking or throwing in a salad.
Comice – crunchy. Great for snacking or sliced in a salad.
Seckel – ideal for baking, canning or poaching.
If you plan on eating the pear immediately, look for a fruit that has a little give when pressed, but not mushy. If you're going to wait a few days before eating, choose a firm pear. If stored in a cool dry place, a pear will usually ripen withing 2-3 days. If you need to speed up the process, place them in a bag with a banana. Ethylene gas in the banana speeds up the ripening process.
How to Prevent Your Pears from Turning Brown
Like apples, pears start to turn brown as soon as they are sliced. This is a natural reaction called oxidation, which happens when the surface of the pear comes in contact with oxygen.
There is a way to slow down the oxidation process — lemon juice. The absorbic acid in lemons slows the browning process by interfering with oxidation. After slicing your pear, place them in a small bowl of lemon juice (freshly squeezed or bottled will both work). Carefully stir them around until they are coated with the juice, then remove them from the bowl. Coating the outside is just enough to slow oxidation without giving the pears an overly lemony flavor.
Lemon juice prevents oxidation in avocados too
Ah, the temperamental avocado. It always seems the window of transition from underripe, ripe and overripe in an avocado is a matter of minutes. I'm joking, but man do they ripen fast! If eating the avocado right away, look for a fruit that if firm, but has a little give when pressed. Rock hard avocado are not ripe and should be used in a few days. Mushy avocados are overripe and should be tossed.
As with the pears, sliced avocado begin to turn brown when sliced for the same reason pears and apples do — oxidation. The same trick we used to prevent oxidation in pears will also work with sliced avocado.
Assemble Spinach Pear Salad with Dried Cranberries and Bacon
Before starting, go ahead and fry up four slices of bacon, drain and cool on paper towels, then dice. Set aside.
Step one. Pour 10 ounces (about 10-12 cups) of washed and dried spinach leaves into a large bowl. Layer with the sliced pear and avocado. Sprinkle with the chopped bacon, cranberries and nuts.
Step two. Whisk together 1/3 cup extra virgin olive oil, 2 tablespoons rice vinegar, 1 clove crushed garlic, 1/4 teaspoon salt and 2 teaspoons of Dijon mustard for the salad dressing.
Rice vinegar is a light tasting vinegar made by fermenting sugar from rice.  It may also be called rice wine vinegar. I find it in the Asian food section of my grocery store. If you can't find it, try using apple cider vinegar instead.
Step three. Drizzle the vinaigrette over the salad.
Step four. Toss the salad and serve.
The result is a wonderfully elegant salad that packs a lot of satisfaction.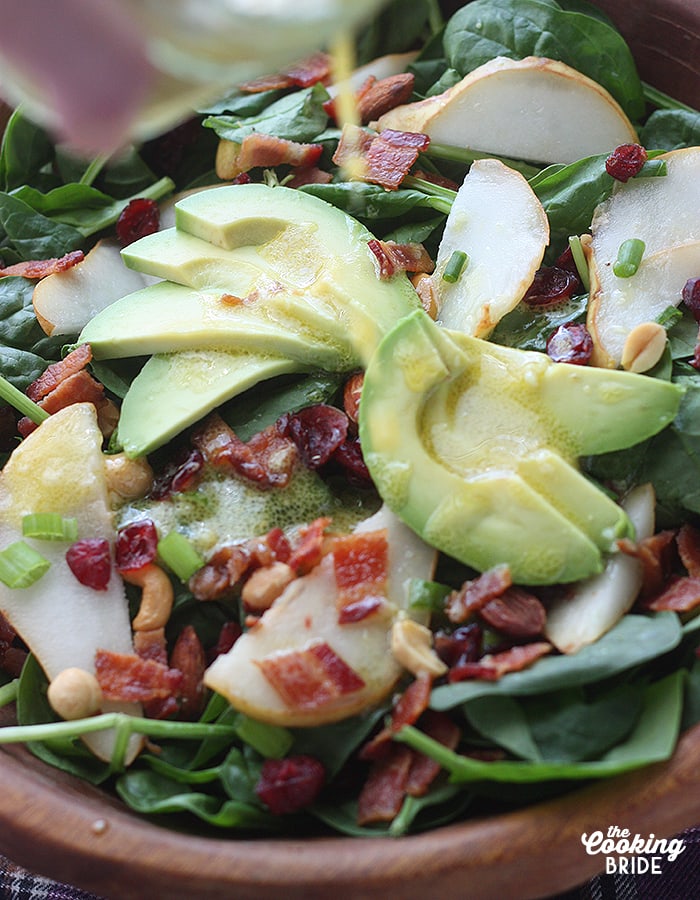 More of my favorite salad recipes:
Spinach Pear Salad with Bacon and Tangy Vinaigrette
Spinach pear salad with dried cranberries and bacon is satisfying enough to serve on its own as a meal or as a side salad.
Ingredients
For the salad:
1

10 ounce package fresh baby spinach

1

Bartlett pear

cored, halved, then thinly sliced

1

avocado

pitted, halved, then thinly sliced

4

bacon slices

cooked and chopped

1/2

cup

salted mixed nuts

1/2

cup

dried cranberries
For the vinaigrette:
1/3

cup

extra virgin olive oil

2

tablespoons

rice vinegar

1

clove

crushed garlic

1/4

teaspoon

salt

2

teaspoons

Dijon mustard
Instructions
Combine salad ingredients in a large bowl.

In a smaller, separate bowl, whisk together vinaigrette ingredients.

Drizzle vinaigrette over salad.

Toss to combine before serving.
Nutrition
Serving:
1
serving
|
Calories:
205
kcal
|
Carbohydrates:
18
g
|
Protein:
8.2
g
|
Fat:
11
g
|
Saturated Fat:
7
g
|
Polyunsaturated Fat:
0.7
g
|
Monounsaturated Fat:
4.8
g
|
Cholesterol:
21.3
mg
|
Sodium:
471
mg
|
Potassium:
488
mg
|
Fiber:
3.7
g
|
Sugar:
11.9
g
|
Vitamin A:
5850
IU
|
Vitamin C:
28.1
mg
|
Calcium:
220
mg
|
Iron:
2.1
mg