I will pretty much try any recipe with bourbon in it.  Maybe it's the Southern girl in me.
The good thing about this cake is that it was delicious.  The pumpkin kept it moist.  I could have eaten the glaze warm from the stove with a spoon.  Okay, maybe not could have – I did.
The bad thing about this cake was that there were a lot of parts that had to come together.  Make the cake, let it cool.  Make the pecans, let them cool.  Make the glaze, let it cool slightly.  Glaze the cake.  Let it set.
This is not a cake you are going to be able to whip up and put in the oven right before your bunco group shows up.  However, the pecans can be made up to a week in advance and the cake up to two days in advance.  The bourbon does not create a boozy taste at all.  In fact, it creates a hint of maple flavor.
The finished cake is quite pretty.  The glaze has a pearlescent hue and the candied pecans are dark and glossy.  If you aren't a pumpkin pie fan, this cake would make a great substitution for a holiday meal.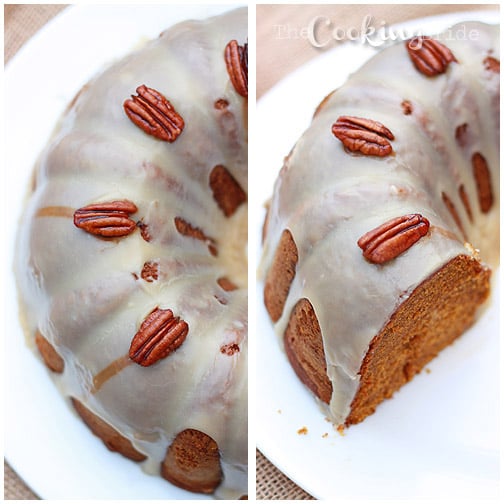 ---
Pumpkin-Pecan Cake with Brown Sugar and Bourbon Glaze
from Fine Cooking magazine
Ingredients
For the cake:
½ cup unsalted butter, softened; more for the pan
3 cups unbleached all-purpose flour; more for the pan
2 teaspoons baking powder
2 teaspoons ground ginger
2 teaspoons ground cinnamon
1-1/4 teaspoons kosher salt
1 teaspoons baking soda
½ teaspoons freshly grated nutmeg
⅛ teaspoons ground cloves
¾ cup buttermilk
3 tablespoons bourbon
1-1/2 teaspoons pure vanilla extract
½ cup vegetable oil
2-1/2 cups packed dark brown sugar
4 large eggs, at room temperature
1 (15 ounce) can pumpkin
For the candied pecans:
2 tablespoons. packed dark brown sugar
1-1/2 teaspoons. mild honey, such as clover
¾ cup pecan halves
Vegetable oil, for the pan
For the glaze:
¾ cup packed light or dark brown sugar
½ cup unsalted butter
2 tablespoons light corn syrup
1-1/2 tablespoons bourbon
⅛ teaspoons kosher salt
⅓ cup heavy cream
4 ounces sifted confectioners' sugar (1-1/4 cups)
⅛ teaspoons pure vanilla extract
Instructions
Preheat oven to 350 degrees. Grease and flour and 10- to 12-cup tube or bundt pan.
In a medium mixing bowl, sift together flour, baking powder, ginger, cinnamon, salt, baking soda, nutmeg, and cloves.
In a separate bowl, mix together buttermilk, bourbon, and vanilla.
Using an electric mixer (if using a stand mixer, fit with paddle attachment), beat butter at medium speed until creamy. Drizzle in the oil and continue to mix until combined. Add the brown sugar, then increase speed to high and continue to beat – scraping the sides of the bowl as needed - until mixture is fluffy, about 4 minutes.
Add the eggs, one at a time, mixing thoroughly between each addition. Add pumpkin and continue to mix until combined.
Reduce mixer speed to low and slowly pour in buttermilk mixture. Once the buttermilk mixture is incorporated, add dry ingredients - one-third at a time- scraping the sides of the bowl in between each addition. Continue to mix just until dry ingredients are incorporated.
Pour batter into your prepared pan. Smooth the top and then tap pan on the counter a couple of times to release any air bubbles.
Bake cake for 45-55 minutes or until a wooden skewer inserted near the center comes out clean. Allow cake to cool in pan for 15 minutes. Run a knife around the perimeter of the pan, then invert pan onto a rack. Hopefully – God willing – your cake will pop right out. Let cake continue to cool for at least 3 hours.
Preheat oven to 350 degrees.
In a small saucepan over medium heat, combine brown sugar, honey, and 1 tablespoon of water.
Add the pecans and stir until the pecans are coated.
Spread pecans out in a single layer, curved side up, on a greased baking sheet. Bake for 10 minutes. Immediately transfer pecans to a sheet of parchment paper to cool, about 20 minutes.
In a medium saucepan, combine brown sugar, butter, corn syrup, bourbon, and salt. Bring to a boil over medium heat and continue to boil until sugar is completely dissolved, about 2 minutes.
Add cream and increase heat to high. Bring to a boil and cook for 1 minute, stirring occasionally. Remove pan from heat. Whisk in confectioners' sugar and vanilla until glaze is smooth. Let glaze stand until thickened, about five minutes.
Drizzle warm glaze over the cake. Arrange candied pecans over the top of the glazed cake.
Allow glaze to set for 15 minutes before serving.