Last updated on December 26th, 2018
Espresso powder and semi-sweet chocolate transforms this creamy homemade chocolate pudding from a kid's snack to a truly decadent adult's dessert.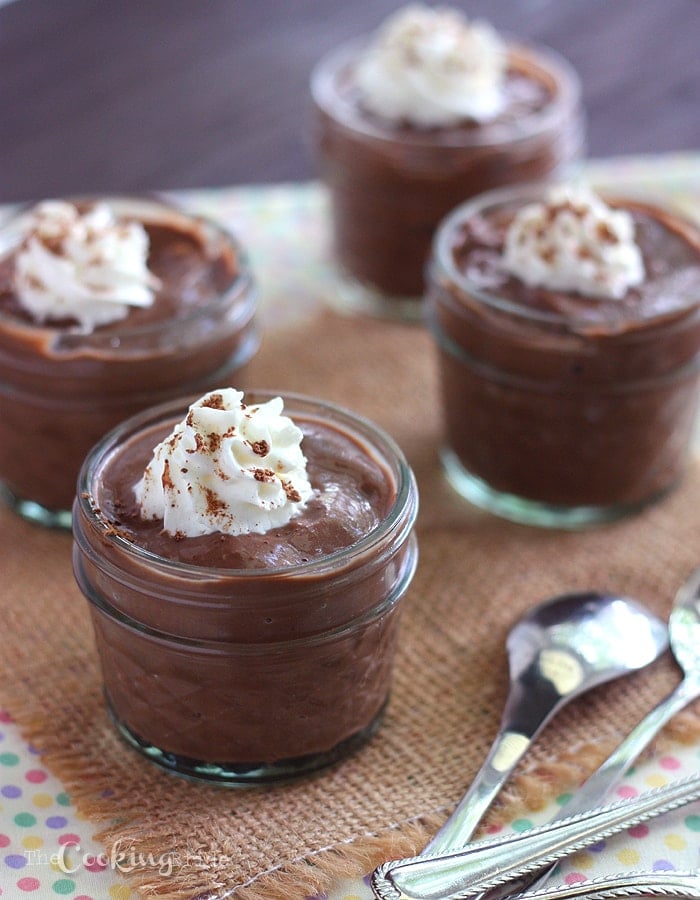 As a kid, those single-serving plastic chocolate pudding cups were a perfectly acceptable dessert to serve guests after a meal.   Granted, that meal was probably a peanut butter and jelly sandwich with the crusts removed and cut into quarters.  But I wonder at what age does that stop being okay?
As an adult, people come to expect a little more from you.  Especially when you are an adult with a food blog.  Let me rephrase that – the people who actually know you have a food blog come to expect a little more from you.  The Husband is the worst.  When I volunteered to make dessert for my Dad's birthday a few weeks ago, I knew a six pack of pudding cups from the grocery store wasn't going to cut it.  My parents probably would have been very gracious about it, kept their mouths shut, and eaten it just to be polite.  The Husband would have called me on it without blinking an eye.
"Really?  This is what we're having for dessert?"
I've created a monster.
And honey, if you're reading this – I love you!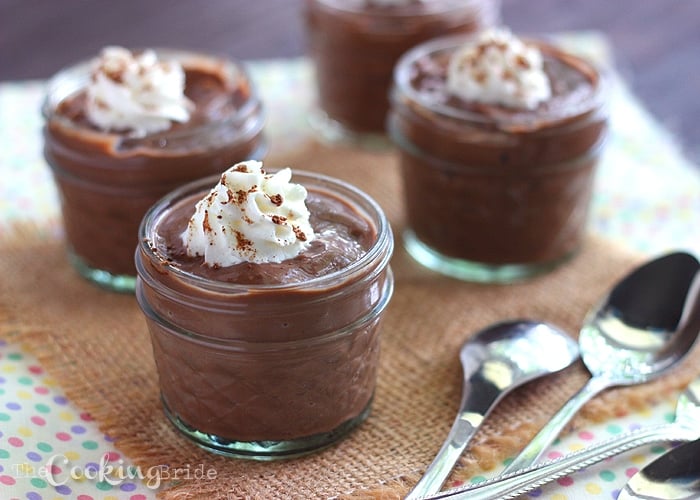 Chocolate pudding made from scratch, it turns out, is a totally acceptable dessert to serve guests as an adult.  Especially when it has a little espresso powder mixed in and topped with a dollop of real whipped cream.  Suddenly it's not a kid's treat anymore.
This recipe calls for Dutch process cocoa powder.  If you've never heard of Dutch process cocoa powder, then you may be wondering how it differs from regular cocoa powder.  Cocoa powder in and of itself is finely ground cocoa beans that have been roasted and dried.  The powder is acidic and if you've ever stuck your finger into a container expecting it to taste like Nestle Quick, you know it has a very sharp and bitter taste.
Dutch process cocoa powder has been treated with an alkalizing agent to remove the acidity, making it neutral.  It is thought to improve the flavor when combined with other ingredients in addition to making it easier to dissolve into liquids. Usually, a recipe requiring Dutch process cocoa powder will specifically state it in the ingredients list.  So don't feel like you have to run right out and buy a box.  It can actually be hard to find (I can only think of two stores in my area that carry it and one of them ain't Wal-Mart) and it is more expensive than regular cocoa powder.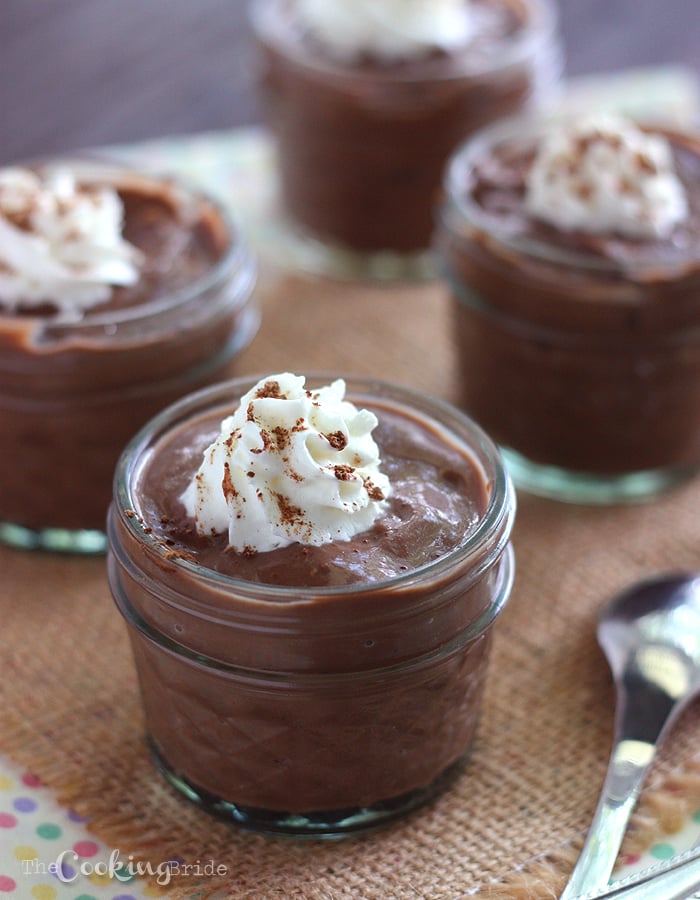 Espresso Chocolate Pudding
Espresso powder and semi-sweet chocolate transforms this creamy homemade chocolate pudding from a kid's snack to a truly decadent adult's dessert.

Ingredients
2

teaspoons

vanilla extract

1/2

teaspoon

espresso powder

1/2

cup

granulated sugar

3

tablespoons

Dutch-processed cocoa

2

tablespoons

cornstarch

1/4

teaspoon

salt

3

large egg yolks

1/2

cup

heavy cream

2 1/2

cups

whole milk

5

tablespoons

unsalted butter

cut into 8 pieces

4

ounces

bittersweet chocolate

chopped fine
Instructions
In a small bowl, whisk together vanilla and espresso powder. Set aside.

In a medium saucepan, whisk together sugar cocoa, cornstarch, and salt. Add egg yolks and cream and whisk until combined. Whisk in milk.

Heat contents of saucepan over medium heat. Cook, stirring constantly, until mixture begins to simmer. Continue to stir until thickened, about 5 to 8 minutes. Heat for 30 seconds longer, then remove pan from heat and add butter and chocolate. Stir until melted and fully incorporated. Add vanilla mixture.

Pour pudding through a fine-mesh strainer into a large serving bowl.

Press lightly greased parchment paper or plastic wrap against surface of pudding to prevent a crust from forming as it cools. Place pudding in the refrigerator to cool for at least 4 hours.

Stir pudding briefly before serving. Garnish with fresh whipped cream and chocolate shavings if desired.
Notes
It is very important that the mixture get hot enough in Step 3 to allow the cornstarch to thicken the liquid. Otherwise, you will end up with chocolate soup. However, don't be alarmed when your pudding is not at its desired consistency when you remove it from the stove. It will firm up a lot while it chills in the refrigerator.
Cook's Illustrated September 2011