Last updated on May 23rd, 2023
This is not your traditional black eyed peas recipes. These black eyed pea cakes are loaded with bell peppers, herbs and spices and fried until golden brown.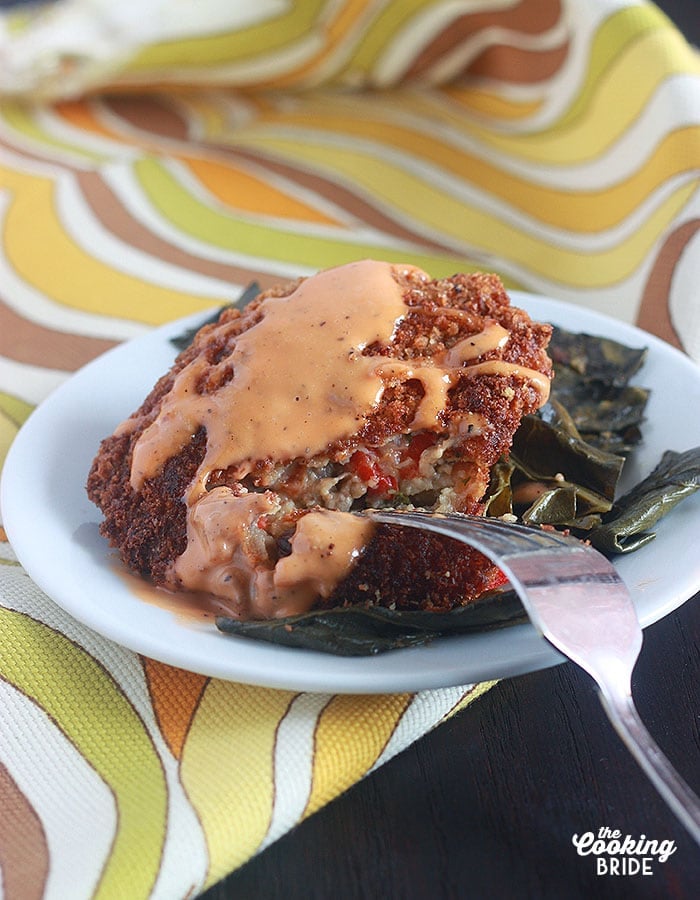 It never fails, unless The Husband is running around at work with his hair on fire he will always call or text me around lunch time to ask how my day is going. Yes, I married a very considerate man. But I do think his check-ins come with an ulterior motive. Because you see, once he has patiently listened to whether my day is going smoothly or an absolute wreck, he always follows with the same question.
What are we having for dinner?
Some folks look forward to getting off work and watching their favorite TV show, or soaking in a hot bath, going for a jog, or relaxing with a cold beer. The Husband looks forward to dinner. It's his motivation to get the job done and make it through the day.
So I better make sure dinner is something delicious, right?
Last Saturday Little Tot spent the weekend with his Grandmama, The Husband had to work, and found myself enjoying a nice quiet house to myself for a few hours. I decided I needed to find something special for the two of us for dinner that night.
This recipe reminds me of fall, so I have been holding off on making it until the weather cooled. Sure enough, as I double checked the list of ingredients and took inventory of what I needed to get at the store, my phone beeps to let me know I have a new text message. It's The Husband. He wants to know what's for dinner.
ME: "Trying a new recipe: Black-eyed pea cakes with those leftover collard greens. It's like a crab cake, but made with black-eyed peas and bacon."
THE HUSAND: "Black-eyed peas & bacon! Heck Yeah! And greens! And it's fried! Thanks for putting a little more pep in my step! #movingwithpurpose."
The hashtag was kind of a joke. He is in the camp that thinks hashtags are stupid and people use them way too much.
Anyway, these didn't disappoint. They were a little spicy. Crispy on the outside and meaty on the inside. Omit the bacon and they are a perfect vegetarian meal. The leftovers make a pretty tasty lunch.
I served these over greens with a drizzle of The Husband's homemade comeback sauce.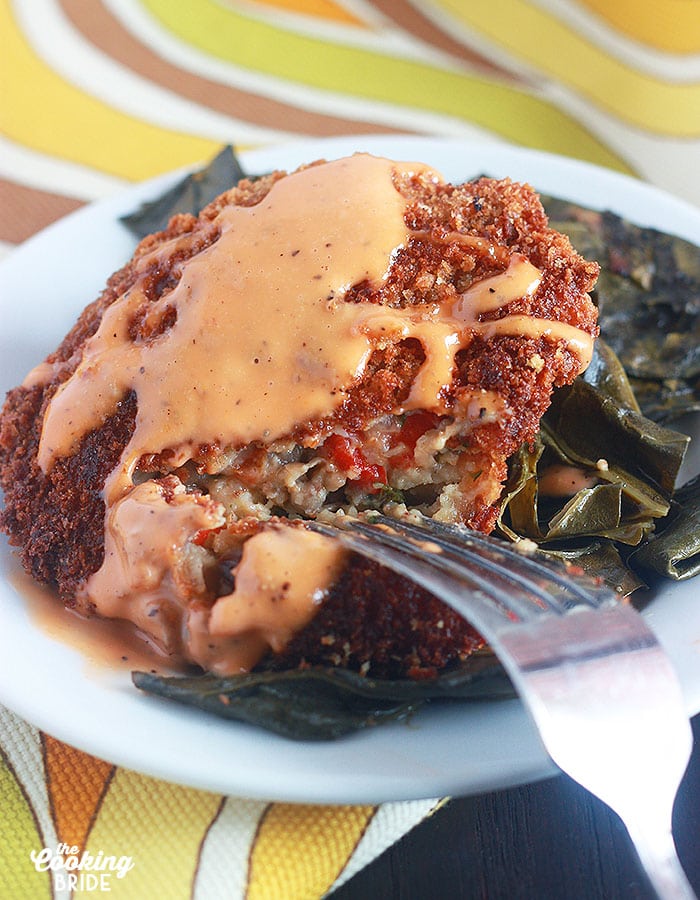 Black-Eyed Pea Cakes
Not your traditional black eyed peas recipe. These black eyed pea cakes are loaded with bell peppers, herbs and spices and fried until golden brown.
Ingredients
1

pound

fresh or frozen black-eyed peas

3

slices

bacon

coarsely chopped

2

cloves

garlic

minced

½

cup

minced white onion

½

cup

chopped green bell pepper

½

cup

chopped red bell pepper

1

tablespoon

finely chopped fresh parsley

1

teaspoon

finely chopped fresh basil

¼

teaspoon

cayenne pepper

1

teaspoon

kosher salt

½

cup

heavy cream

1 ½

cups

all-purpose flour

1

large egg

½

cup

buttermilk

3

cups

panko bread

1/2

cup

vegetable oil
Instructions
Bring about three cups of water to a boil in a medium saucepan over medium high heat. Add the peas and additional water if needed to completely cover the peas. Return to a boil, then reduce heat and simmer for 30 minutes or until peas are tender. Drain peas and set aside to cool.

In the meantime, heat a large skillet over medium high heat. Add the bacon and fry until the bacon is brown and crispy. Remove the bacon from the pan, reserving the grease, and set aside.

Add the onion and peppers to the reserved bacon grease and sauté until the vegetables are tender. Add the garlic and sauté until fragrant, about 30 seconds to 1 minute more. Remove vegetables from heat and allow to cool.

Transfer half of the cooled peas to a large bowl or a food processor. Mash with a potato masher or process in a food processor until peas are the consistency of a chunky puree. Add the reserved peas, vegetables, parsley, basil, cayenne pepper, salt, and cream. Stir until well-combined. Refrigerate for at least one hour.

Set up a workstation to coat the cakes. Place flour in one shallow bowl, combine the egg and buttermilk in another, and the bread crumbs in another.

Heat vegetable oil in a large skillet over medium high heat

Scoop out about ¼ cupfuls of the pea mixture and form into balls with your hands. Completely coat the balls with the flour, then form into a patty. Coat the patty in the egg/buttermilk mixture, then coat in the breadcrumb mixture.

Working in batches, fry patties until golden brown, about 2-3 minutes per side. Allow to drain on a layer of paper towels.