I have noticed Big Brother has taken more of an interest in helping me in the kitchen. More often, he asks if he can "help." It's a good thing. But I admit, sometimes it stresses me out. I am constantly having to keep one eye on him and one eye on the recipe. It's not very relaxing and it usually takes twice as long had I just made the recipe on my own time. I remind myself we are making memories. Hopefully, he won't remember the frazzled look on his mama's face when he spills sugar all over the floor.
Big Brother started kindergarten this year. He is absorbing all the new information he is being taught like a little sponge. A few weeks ago they studied apples and he came home and asked if we could make apple pie. We made apple pie. Earlier in October, his class studied pumpkins. He asked if we could make pumpkin pie. We made pumpkin pie.
During the holidays, pumpkin pie is usually someone else's responsibility. Therefore, I rarely make it. This is my grandmother's recipe. It is legendary among my family. When Big Brother asked if we could make pie, there was no question what recipe I was going to use. I hate to admit  in the 10+ years I have been cooking, this is the first time I have ever made it. But I am pleased I got to share the experience with my oldest son.


My grandmother died two years before Big Brother was born. It makes me sad that she and my grandfather never got to meet my kids, or that my boys will never know my grandparents like I did. Recently, I heard a Terry Pratchett quote that really resonated with me, ". . . a man is not dead while his name is still spoken . . ." As long as there are pictures, and memories, and pie, she won't be forgotten.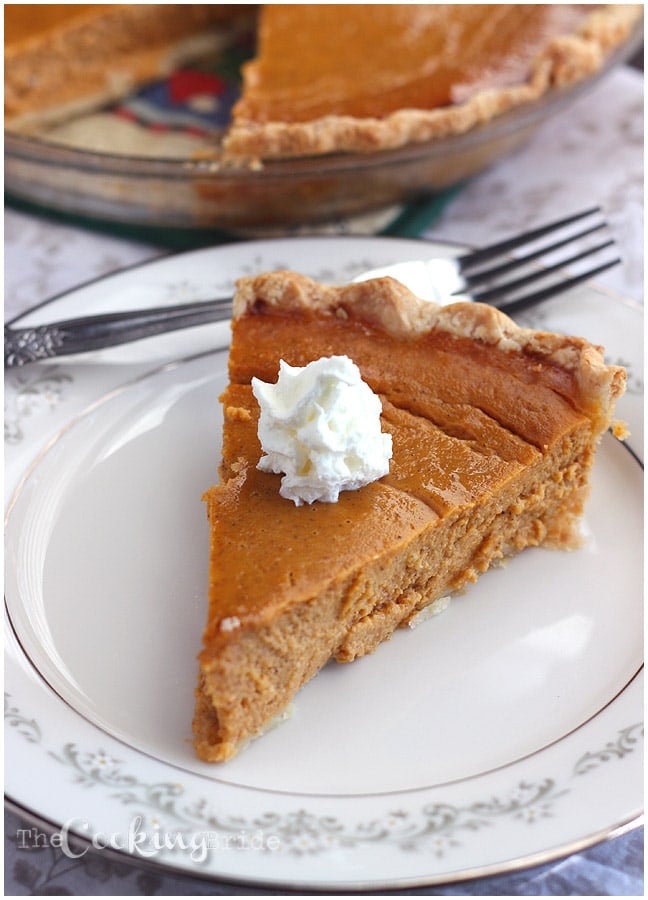 This post was inlcuded in Saucy Saturdays by Take Two Tapas.
This post was inlcuded in Made by You Monday on Skip to My Lou.
---
Grandma Reils' Pumpkin Pie
Cooking Bride original
Ingredients
3 eggs, slightly beaten
¾ cup sugar
½ teaspoon salt
1 ½ cups evaporated milk
½ teaspoon ginger
1 teaspoon cinnamon
¼ teaspoon nutmeg
1 ½ cups pureed pumpkin
Dough for single pie crust
Instructions
Preheat oven to 450 degrees.
Combine pie filling ingredients in a medium mixing bowl. Mix with an electric mixer on medium speed until mixture is smooth.
Pour filling into an unbaked 9-inch pie crust.
Bake pie for 10 minutes. Reduce oven temperature to 325 degrees and continue baking for an additional 45 minutes or until a knife inserted in the center of the pie comes out clean.