Last updated on March 21st, 2023
An old fashioned treat, spicy cinnamon candies give these Red Hot cinnamon apples their bright red color and sweet flavor.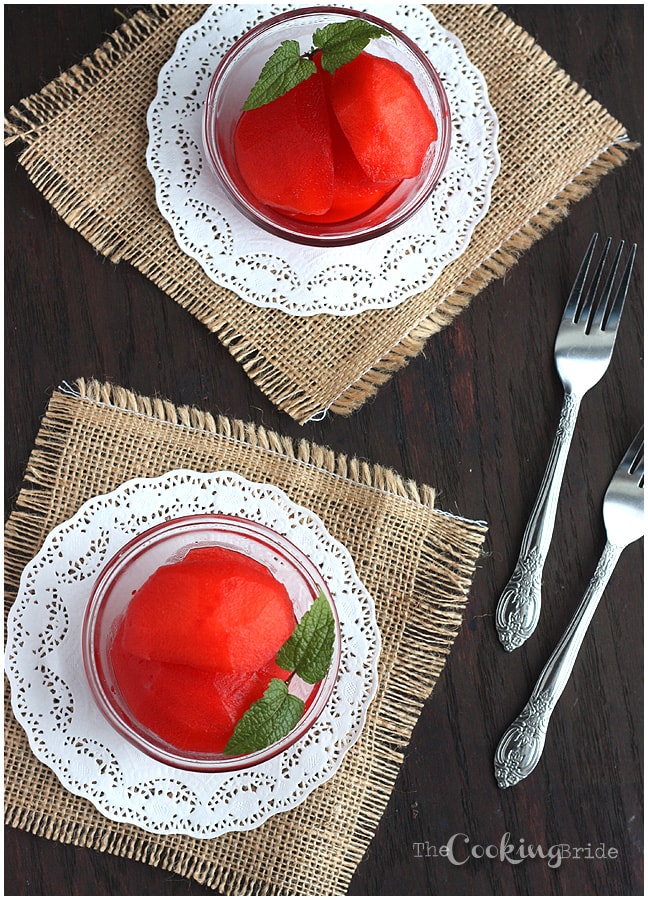 This post may contain affiliate links. Click here to learn more about how affiliate links are used on this site.This post contains affiliate links.
My paternal grandmother's name was Bess. Bess was a tough woman. I remember once when I was about 19 or 20 years old, I was moon-eyed over some boy. During a visit, I was waxing poetically to her about my Prince Charming when she looked me dead in the eye and said, "You better not get serious with that boy. I'll kick your ass."
That's just the kind of person she was — never one to sugarcoat. And she was right about that boy. He didn't deserve my heart.
Bess often liked to refer to herself in the third person. Getting out of bed in the morning, getting off the couch, or heading out the door was often preceded with, "Come on Bessie, old girl."
I don't have a lot of memories of Bessie's cooking. Not like my other grandmother. Except for this. Bess didn't just make these at Christmas. She made them every time I came for a visit, probably because she knew I liked them.
Not long ago, my eyes passed over a display of cinnamon imperials in the grocery store and instantly the image of the kitchen in her 1900's bungalow on Douglas Street in Joliet, Ill., flashed across my memory. I can see myself as a grade schooler, sitting at her formica kitchen table with chairs that creaked whenever you moved. Church bells from the cathedral one block away waft through the open window. There are blue and yellow glass globes hanging over the kitchen sink.
The memory of these apples was almost palatable, and without thinking I grabbed a bag of cinnamon imperials and went in search of apples. I had no idea what else was required to make these, but I knew I would figure it out.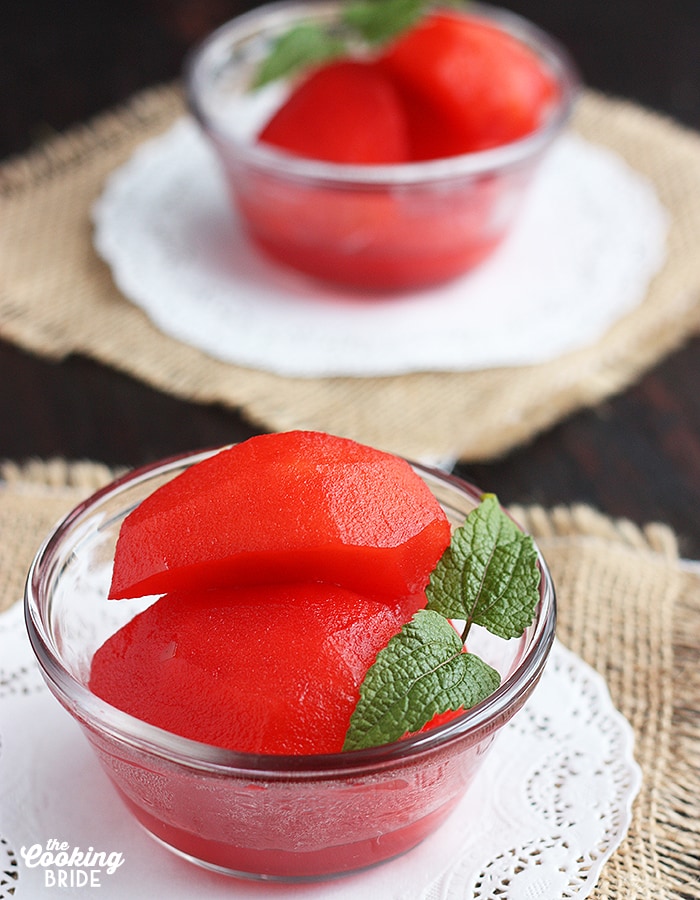 How to Make Red Hot Cinnamon Apples
Turns out, making Red Hot Cinnamon Apples is easy as … apple pie? Before you get started, go ahead and peel, core, and chop your apples. You can leave them in large segments like I did in the photos, or dice them into bite sized pieces like my grandma used to do. Set aside.
Combine two cups of water, 3/4 cup of red hots and 1/3 cup of sugar in a large saucepan. Bring the pan to a boil, then reduce the heat and simmer until the candy and sugar is completely dissolved.
Add the apples to the saucepan. Continue to simmer until the apples are tender, which is about 30 minutes. Remove the apples from the heat and allow them to cool. The longer they sit in the Red Hot mixture, the deeper the red color will be.
I love how food can evoke such strong emotion, don't you? It's not just about tasting good. Or that it can provide comfort at times when you are sick or sad or happy. Or that it can be eaten alone or shared with friends. I love that for a brief moment it can take you back to a long forgotten time when life was simple and sweet.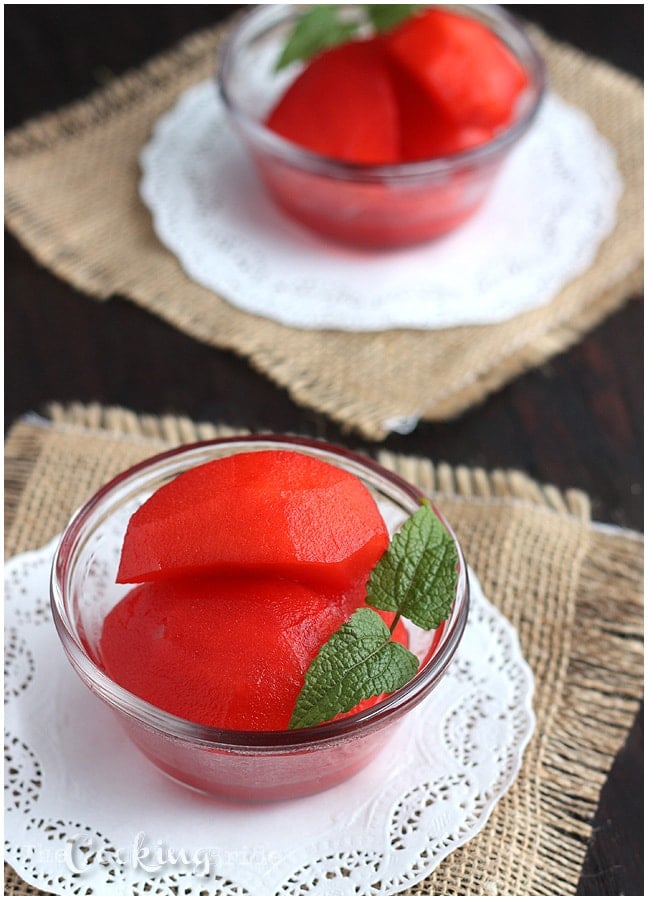 You Might Also Like:
Red Hot Cinnamon Apples
An old fashioned treat, spicy cinnamon candies give these Red Hot cinnamon apples their bright red color and sweet flavor.

Ingredients
2

cups

water

3/4

cup

cinnamon imperials

Red Hots candies

1/3

cup

sugar

6

medium tart apples

peeled and quartered
Instructions
Bring first three ingredients to a boil in a large sauce pan over medium high heat. Reduce heat to medium low and simmer until candy has dissolved.

Add apples. Simmer uncovered until apples are tender, about 20-30 minutes. Remove apples from heat and allow to cool slightly before serving. For a deeper red color, let apples continue to soak in the syrup for a few hours.

Remove apples with a slotted spoon into serving dishes. Drizzle any remaining syrup over top.
Nutrition
Serving:
1
cup
|
Calories:
180
kcal
|
Carbohydrates:
46
g
|
Sodium:
5
mg
|
Fiber:
2
g
|
Sugar:
39
g
|
Vitamin A:
15
IU
|
Calcium:
3
mg